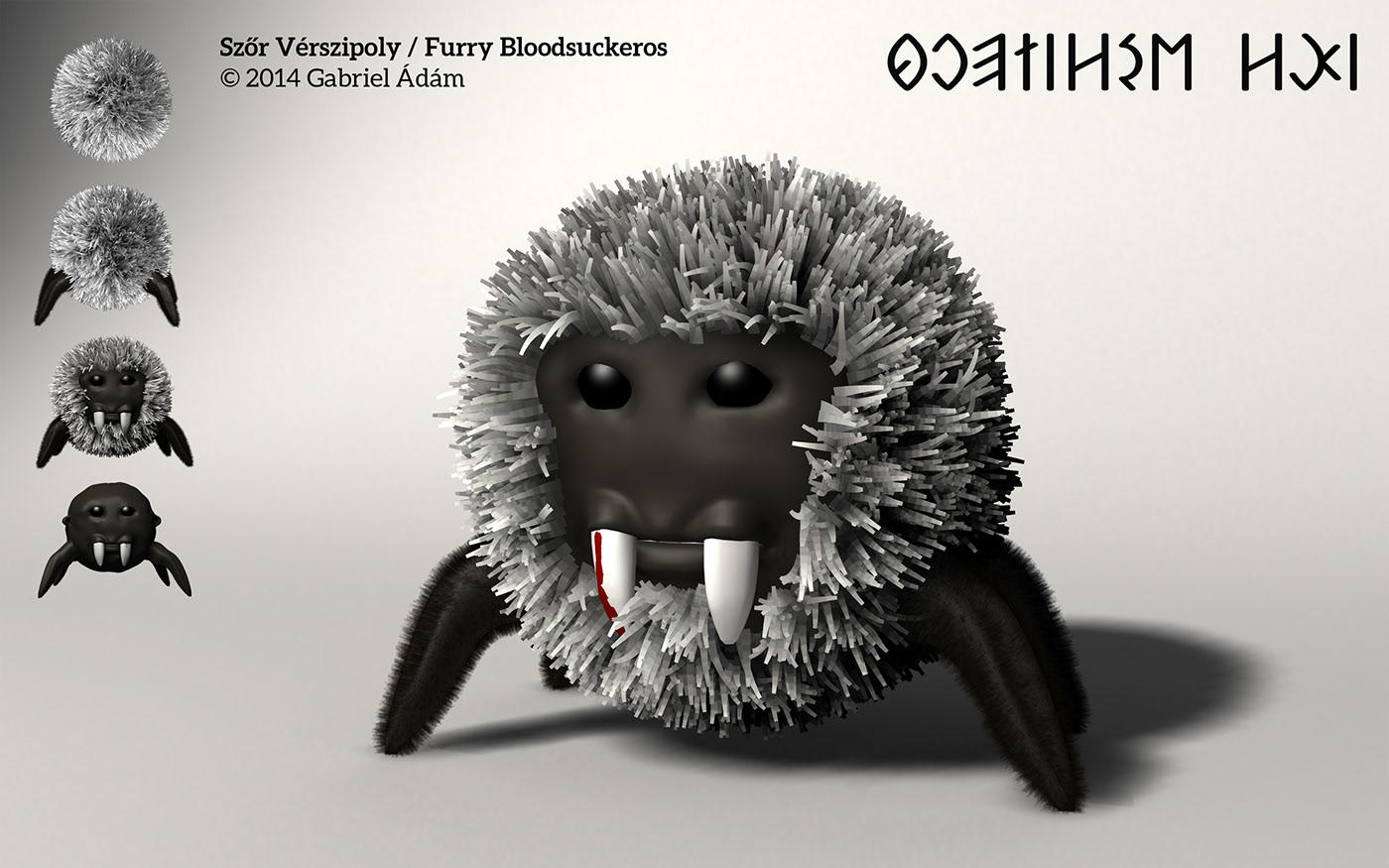 Vérszipoly [ˈveːrsipoj] is an archaic Hungarian word for any "bloodsucker" being, whether it's an animal or a vampire. Szőr [sˈøːr] means "fur" or "hair", but it's almost pronounced like the English word "Sir". So I would interpret and translate "Szőr Vérszipoly" into English as either "Furry Bloodsucker" or "Sir Bloodsucker", but "Furry Bloodsuckeros" sounds more ancient. :)

Szőr Vérszipoly is an imaginary being I made-up and created in 3Ds Max for the Art Anatomy II lesson at the university. The runic text, you can see on the images, says the Hungarian name of this being and is written with the Old-Hungarian alphabet, which we used some hundred years ago, and is living its renaissance the past 20 years.

Szőr Vérszipoly egy kitalált karakter, amelyet a Művészeti Anatómia II tantárgy keretein belül találtam ki és csináltam meg 3D-ben a 3Ds Max program segítségével. Neve egy nyelvi játékon és egy régi magyar szón alapszik: az angol Sir (Úr) és a magyar "szőr" hasonló kiejtése. Vérszipoly, egy vért szívó állatra vagy lényre utaló régi magyar szó. A karakter promó képein a nevét rovásírással is kiírtam, hogy minél ősibbnek tűnjön a karakter története.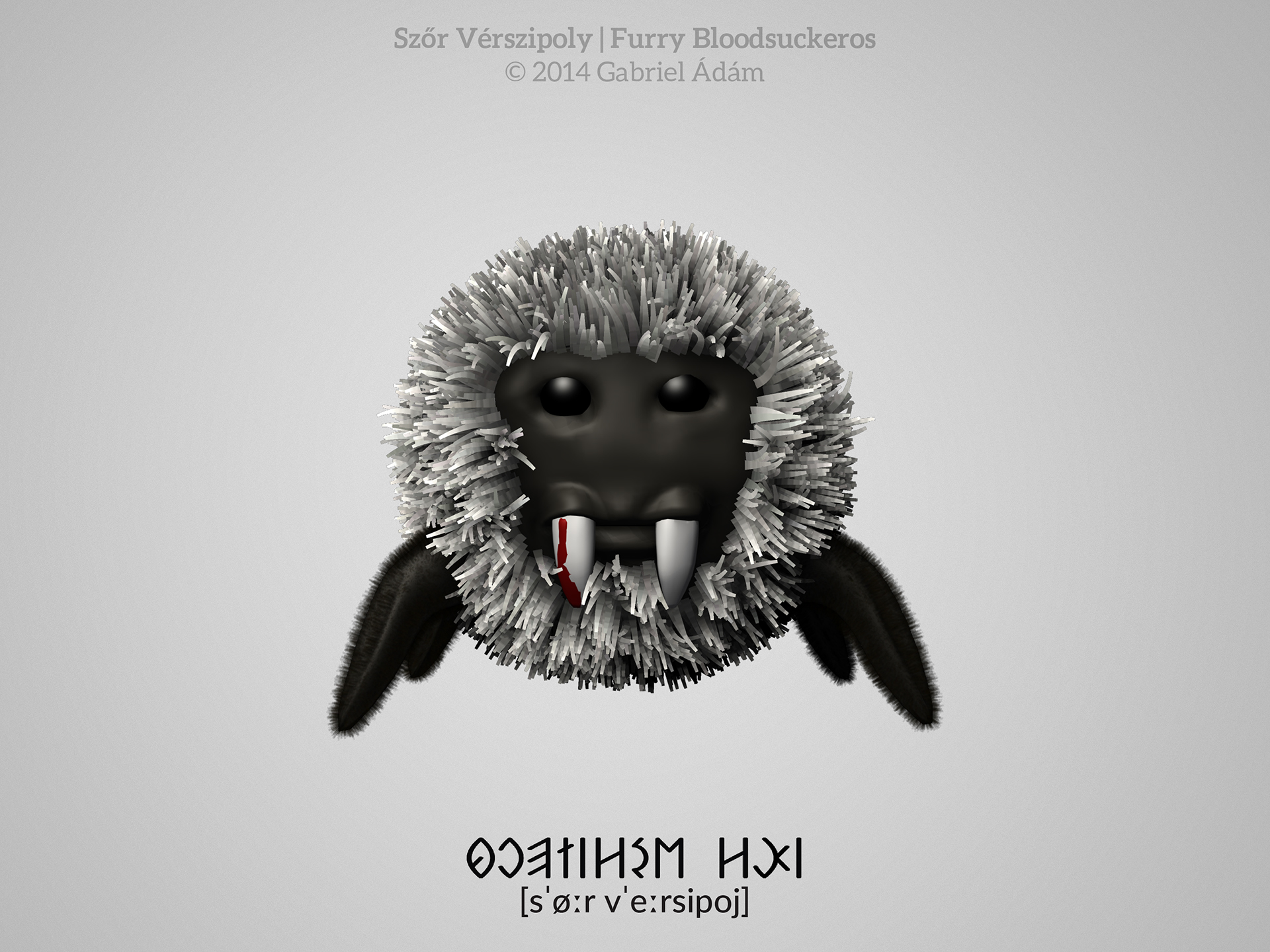 Character's background:
The Szőr Vérszipoly used to live on the coniferous trees in the forests around the Ural Mountains. Its origin is unknown. Every information we have on it, we have thanks to the Old Hungarian legends and sketches, which had texts written around them with the Old Hungarian script, which uses right-to-left writing. The Szőr Vérszipoly had two medium-sized eyes, small ears, big mouth, vampire teeth and four legs. Its ball-shaped body is covered with white fur. For moving it mainly used its legs, but sometimes was just jumping or rolling forth and back. The vérszipoly was that kind of animal, which fed itself with other animals' or people's blood. It could reach the size of 5 cm. In Winters it lived alone, but every Spring wandered to the nearby rivers or lakes, where the vérszipolys would meet and reproduce. The female laid its brown eggs into the mud, and three weeks later 3-5 new vérszipolys were born. They spent their first winter with their mom, who fed them with other animals' blood. They usually lived up to 7-9 years. According to the Russian authorities, the Szőr Vérszipolys died out at the end of the 19th century. Many of the people living in the area say, that from time to time they still find brown eggs on the shore of rivers and lakes... The character and the story are just figments of my imagination.

Karakter története:
A Szőr Vérszipoly hajdanán az Urál hegység erdeinek tűlevelű fáin élt. Eredete ismeretlen. Minden, amit tudunk róla, az az ősmagyar legendákból és a magyar rovásírásos szövegekkel ellátott skiccekből maradt ránk. A Szőr Vérszipoly két közepes nagyságú szemmel, kis fülekkel, nagy szájjal, vámpír fogakkal és négy lábbal rendelkezett. Gömbölyű testének egész felületét fehér szőr borította. Lábai segítségével mozgott – sétált vagy ugrált – itt-ott pedig gurulva tette meg útját. Olyan állat volt, amely más állatok vagy emberek vérével táplálkozott és elérte akár az 5 centiméteres nagyságot is. Telente egyedül élt, de minden tavasszal a közeli tavak vagy folyók egyikéhez vándorolt, ahol fajtársaival utódaikat nemzették és hozták világra. A nőstény barna tojásait a part menti sárba rakta, amelyekből három hét elteltével 3-5 kis vérszipoly kelt ki. Az első telüket anyjukkal töltötték, aki más állatok vérével táplálta kicsinyeit. 7-9 évig éltek. Az orosz hatóságok szerint a Szőr Vérszipolyok a 19. század végén kihaltak. A terület lakosai közül viszont sokan azt állítják, hogy időről időre még mindig találnak barna tojásokat a folyók és tavak partján... A karakter és története csupán a képzeletem szüleményei.