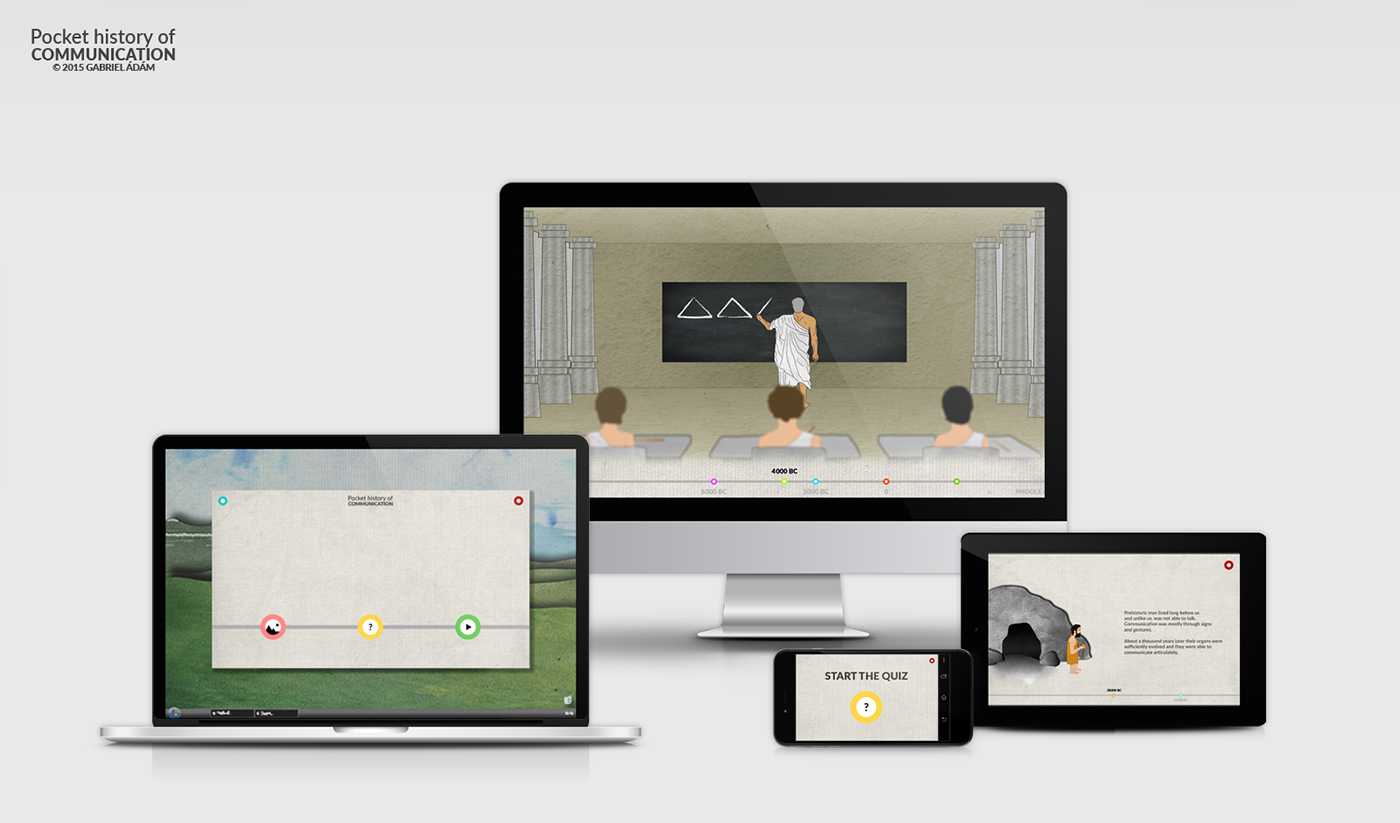 Pocket history of communication is the practical part of my Master's thesis, that I worked on in 2014–2015 at the Faculty of Informatics' Studio of Graphic Design and Multimedia (AGD+M) at Masaryk University in Brno. It is basically a small project, which combines art and IT. The main goal was to make a short animation, which tells the story of how communication started and evolved on our planet in the past 30.000 years. The project besides the video comes with a mobile application for Android devices and a program for personal computers.

A Pocket history of communication (A kommunikáció zsebtörténelme) a diplomamunkám gyakorlati része, amelyen 2014–2015-ben dolgoztam a Masaryk Egyetem Informatikai Kara Grafikai Tervezés És Multimédia (AGD+M) stúdiójában. Ez nem más, mint egy kisebb projekt, amely az informatika és a művészet közös terméke. Fő célja egy animáció elkészítése volt, amely a kommunikáció kezdetének és fejlődésének történetét mondja el bolygónkon az elmúlt 30 000 évben. A videón kívül a projekt része még egy Android alkalmazás és egy számítógépes program.

All the art work and programming was made by me. Animation voice-over: Jennifer Helia de Felice.
A projekt minden egyes részét én rajzoltam, terveztem és programoztam. Az animáció szinkronhangja: Jennifer Helia de Felice.



Animation drawn in Adobe Illustrator and Photoshop, and made in After Effects. Android app written in ActionScript in Adobe Flash Pro. Computer software written in C# in Microsoft Visual Studio.
Az animációt Adobe Illustrator-ban és Photoshop-ban rajzoltam és After Effects-ben készítettem el a videót. Az Android alkalmazást ActionScript nyelven írtam az Adobe Flash Pro programban. A számítógépes programot pedig C# nyelven írtam a Microsoft Visual Studio-ban.